Canvas tents are once again becoming a common choice among campers with a greater range of tents available for a wide variety of uses.
While tents made from man made materials are often waterproof and need little attention for wet weather is this the same for canvas and are canvas tents waterproof?
Canvas tents have waterproofing properties but are not fully waterproof. In time water will be absorb by the canvas unless it is treated. This water can become trapped in the canvas and can cause mildew to form. Treating a canvas tent is an easy process that you should do once a year.
Why was canvas used for tents?
Before the introduction of lightweight, man made materials, canvas was the main fabric used in the construction of tents.
It suffered a decline in use but is gradually making a reappearance due to it's strength and extra warmth and comfort that it provides.
Canvas tents have become a popular choice for those looking for a more luxurious style of camping and are the main choice for glamping holidays.
What do you need to do to make a canvas tent waterproof?
Your canvas tent will have some water resistant properties but these will soon be overcome in spells of wet weather such as heavy rain or snow.
Thankfully there is a wide range of applications available that can be used to provide the waterproofing that your tent needs.
These treatments will all have their own instructions but typically you will need to:
Erect the tent on a dry, calm day
Wipe the exterior surfaces of the tent with a damp cloth or sponge to remove any dirt and debris and then allow the tent to dry
Apply the waterproofing treatment, normally this can be done using a clean paintbrush and then allow the tent to dry before packing it away.
How often should you waterproof a canvas tent?
Ideally you should waterproof your tent after you have purchased it before your first use and at the beginning of every camping season.
While it is possible to apply treatments more often this normally isn't necessary and can even reduce the water resistance properties that your tent has.
Waterproofing a canvas tent will increase its life, maintaining it properly will ensure that you get more out of your investment.
---
$399.00
in stock
3 used from $347.61
as of September 7, 2023 1:55 pm
$599.97
in stock
2 new from $599.97
1 used from $498.66
as of September 7, 2023 1:55 pm
$629.00
in stock
2 new from $629.00
as of September 7, 2023 1:55 pm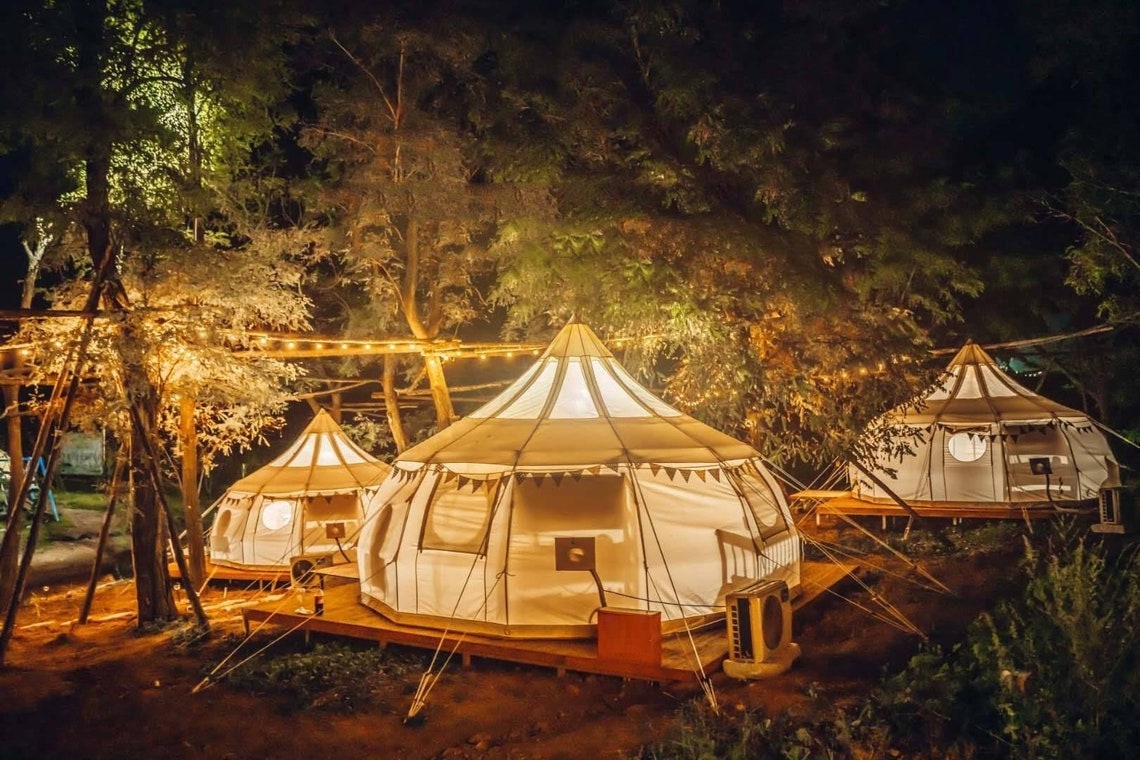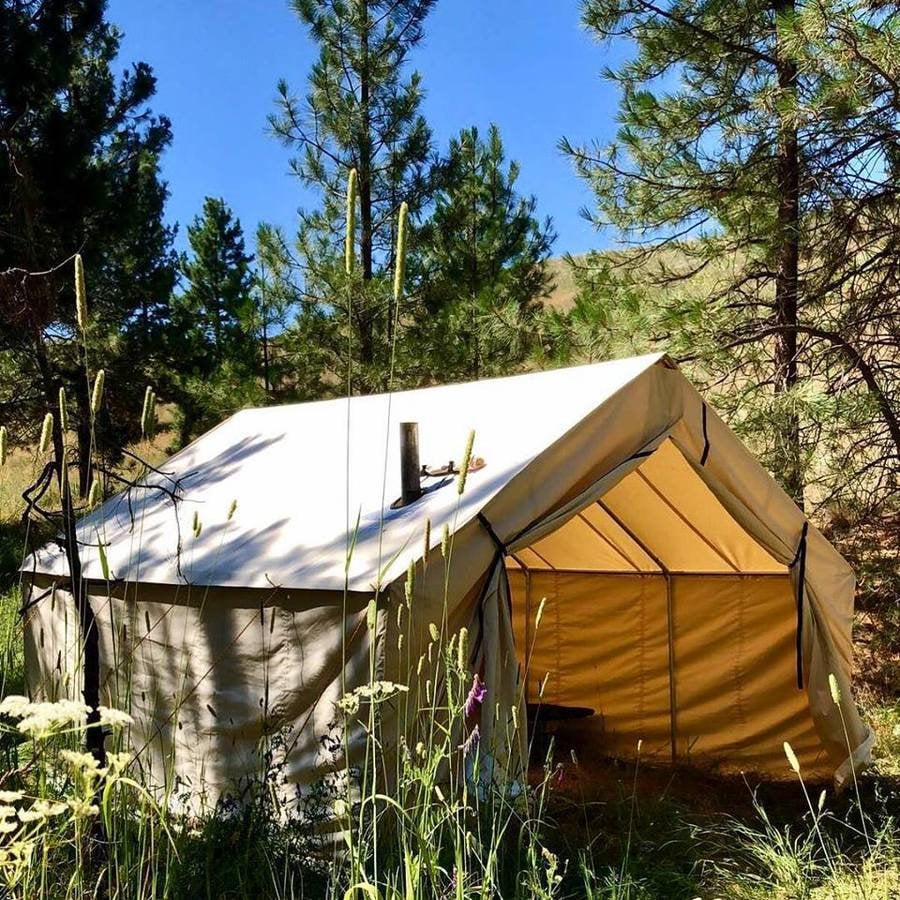 ---
How do you care for a canvas tent?
At the end of every camping trip it is always a good idea to erect your canvas tent at home and to hose it down carefully with cold, clean water.
Not only will this remove dirt and debris from the tent but it will also cause the fibres of the canvas to expand, filling any microscopic gaps between the fibres.
Always let the tent dry completely before putting away – if you put a canvas tent away while it is damp then mould and mildew will form on the canvas.
Will a canvas tent leak if touched?
Yes, it's very likely, even if it has been waterproofed.
When you touch damp canvas the surface tension will attract the water from outside through the canvas to the inside of the tent.
For this reason you should not allow any objects to touch the interior walls of a canvas tent and should inform the occupants to avoid touching the tent if it is wet outside.
What's the best water proofer for a canvas tent?
There are a number of water proofers that will retain the water resistant properties of your canvas tent and many of these can be found in camping stores or online.
Follow the instructions on the container for best results and try to use products recommended by experienced campers, especially if you plan on using the tent in extreme conditions such as winter camping.
STAR BRITE Waterproofing Spray
Star Brite's Waterproofing Spray is perfect for keeping your canvas tents and other outdoor items in great condition.
The spray provides an additional repellant barrier to moisture and a sun shield to damaging UV rays, and it doesn't change the breathabilty, color, or feel of fabric.
Plus, it's easy to use; simply spray the fabric to be restored, and allow it to dry for 6 hours before use.
STAR BRITE Waterproofing Spray, Waterproofer + Stain Repellent + UV Protection – 64 OZ (081964)
ULTIMATE PROTECTION FOR OUTDOOR FABRICS – Waterproofing plus UV and stain protection for boat covers, car covers, bimini tops, sail covers, tents, jackets, backpacks, boots, awnings, and patio covers
PRESERVES FABRIC QUALITY – Does not change the breathability, color, or feel of fabric, ensuring original texture and appearance
EXTENDS FABRIC LIFE – Great for use on new fabrics, greatly extending their service life and revives old fabrics by providing an additional barrier to moisture, stains and damaging sun rays
EASY APPLICATION WITH INCLUDED SPRAYER – Included sprayer for easy, even coating; half gallon covers multiple applications and is quick drying
PROUDLY AMERICAN, TRUSTED GLOBALLY – With STAR BRITE, you're choosing a leading name in marine, auto, RV, home, and outdoor products since 1973, all proudly made in the USA for superior quality and performance
Nikwax Tent and Gear Waterproofing
The Nikwax Tent and Gear Solar Proofer Spray-On is a non-aerosol, water based formulation that is extremely effective in restoring the water repellency of all weather proof fabrics.
The spray on application makes it easy to treat your canvas tent with little effort.
It also allows you to treat items such as awnings, boat covers, umbrellas and panniers.
The Nikwax Tent and Gear Solar Proofer Spray-On will add UV protection to prolong the life of your tent or other outdoor gear.
Nikwax Tent & Gear, Tent & Gear Solarproof, 500ml
Restores and adds water-repellency to weather-proof fabrics
Adds UV protection to prevent sun damage and double the lifespan of gear; works best after application of Nikwax Tent & Gear SolarWash
Spray-on application
Great for use on tents, fly, backpacks, awnings, boat covers, umbrellas, patio furniture, and panniers
Water based, non-persistent, and contains no PFAS, optical brighteners, or added scent
Canvak – Water Resistant Canvas Preservative
Canvak is a commercial grade water resistant canvas preservative that can be easily brushed or sprayed on to protect your awnings, tarps, and other canvas items.
Once dry, Canvak leaves your canvas like new – water beads up on it just like rain does on a freshly waxed car.
One gallon of Canvak will cover approximately 100 square feet of canvas.
Do canvas tents loose their waterproofing?
Yes. Any waterproofing applied to the tent will lose its properties over time and exposure to the weather.
The combination of sun and rain and even wind will cause the waterproofing to gradually deteriorate and it will become less effective.
Aim to reproof or 'season' your tent at least once a year to maintain the waterproof properties.
Final Words
Although a canvas tent has some natural water resistance it will not give it's best performance until it is treated with a good quality waterproofing compound.
Do not store your canvas tent wet – it should be allowed to completely dry before packing away.
Properly treated waterproofed canvas tents are the perfect choice for camping in all seasons, climates, and locations.
Use them year-round for weekend getaways or week long family vacations; you'll find a wide selection of tents designed for any camping adventure here on Amazon.